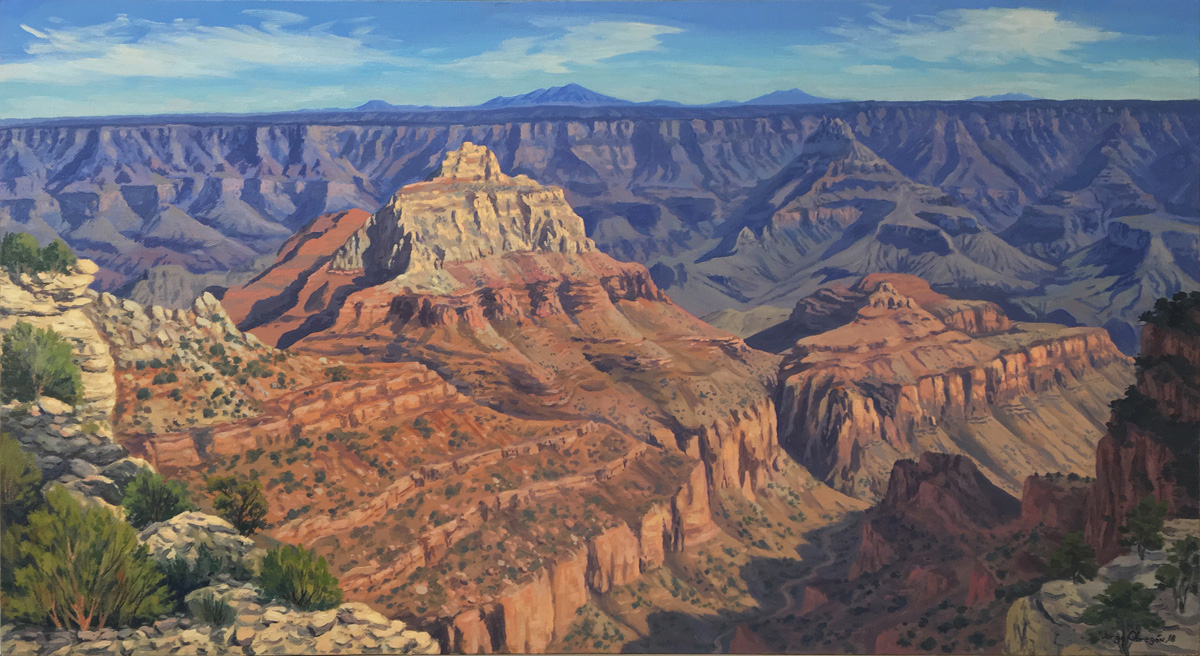 We are pleased to announce the upcoming exhibition: Grand Canyon, Zion and Sedona Experience by Jorge Obregon, which will run from October 17th, 2018 through January 9th, 2019.
Jorge Obregon is one of the most notable contemporary landscape artists in Mexico. He is heir to the practices, teachings and evolution of the Mexican landscape artists of the 19th and 20th centuries, and at the same time he is an explorer of new trends and horizons. He learned from his mentor Luis Nishizawa the tradition of painting en plein air, a French expression that means "in the open air" and is used by artists to describe the art of outdoors painting.
After making various projects en plein air like Mexican Neo-Volcanic Axis Study, painting by two years (1994-1996) more than 300 volcanoes from Veracruz to Nayarit; Light of the Catalan Pyrenees, Farrera, Spain, in 1997; Midnight Sunlight, Finland, in 1999; Autumn in Appalachian Vermont, Vermont Studio Center, USA, in 2002; Sierras de Coahuila, an expedition with paleontologists through the desert of Coahuila, in 2007; The Peaks of Europe, Cantabria, Spain, in 2009; Expedition to the Cayambe Volcano, Ecuador, in 2009; Volcanoes of Colima, Mexico, in 2012; Fuji Volcano Project, Japan, in 2014; and Remains of the Basin, Valley of Mexico in 2016, he started a new expedition to the Grand Canyon, Zion and Sedona, to paint en plein air 18 extraordinary paintings for this exhibition.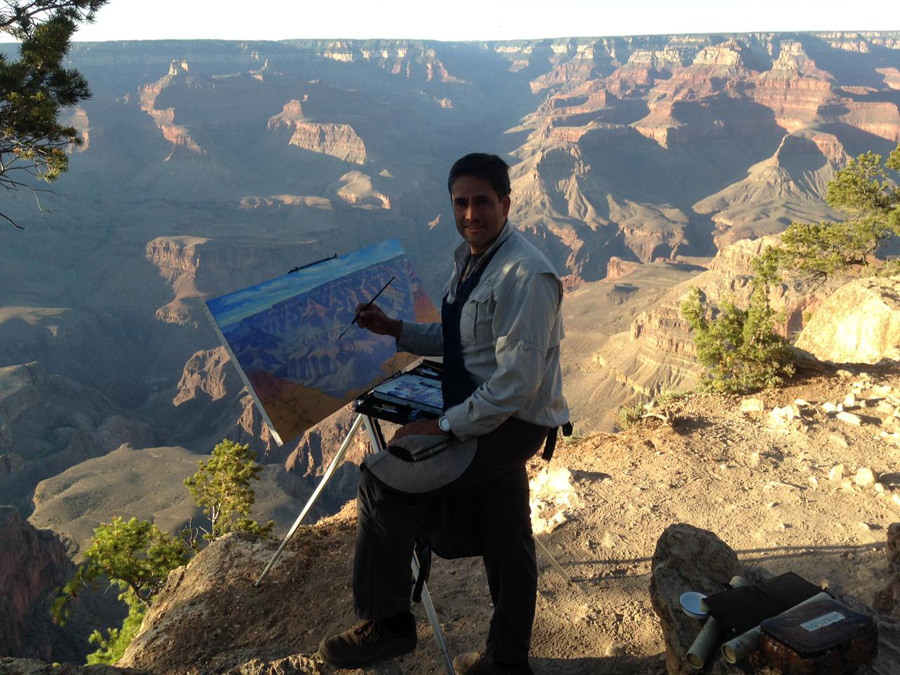 Jorge Obregon spent two months, June and July of this year, traveling in his trailer and painting en plein air the most beautiful views of the Colorado Plateau, an area known as the region of the four corners, covering the boundaries of the states of Colorado, New Mexico, Utah, and Arizona. It is a place where three majestic artworks created by nature throughout millions of years, climb to the sky and give their testimony of the passage of time. The first one is the Grand Canyon, with a length of 277 miles, a width of 18 miles and a depth of over a mile. It has been carved by the Colorado River, layer by layer, throughout millions of years, exposing close to 2 billions years of Earth's geological history. The second one is Zion, with a length of 15 miles and a depth of half a mile. It is a formation that represents the sedimentation process of 150 million years, currently crossed by the Virgin River and home for an unusual diversity of vegetation and fauna. Lastly, Sedona, which is characterized by its unique formation of red rocks that shine in bright tones of orange and red with the light of every sunrise and sunset. These three places are witnesses of the formation of Earth and have been the home of Native Americans for thousands of years.
Jorge Obregon tell us about this expedition and exhibition: "Traveling through Grand Canyon National Park, Zion National Park, and Sedona Mountains was the main objective of this plein air project. I was painting in each site and trying to understand how nature has been transforming the Earth's crust to form these great dramatic rocky areas. It took me two months and more than 8000 miles driving to travel around these areas, to capture the unique lights and atmosphere of each site at specific light time. The great Colorado Plateau is the main place where all these landscapes rise. The native cultures of many Indian groups as the Navajos, Yavapai, and Zuni were settled on this land where they established an harmonious way of living with nature and landscape in their surroundings.
The imagination, sympathies and emotions were components of this creativity, that started before the sunrise for working on the first painting of the day, and then waiting for the afternoon light to start the second one. With this passion I worked for two months outdoors beside nature. Painting from the heart offers an enticing and optimistic alternative to the often unsettling aspect of objective reality.
These 18 paintings would be my 21st Solo Exhibition, and my first one in the United States of America. The plein air paintings were created totally during my pilgrimage around the Colorado Plateau. Created for personal reasons, including a love and respect for the outdoors. During this trip I decided to travel with my trailer, staying at RV parks, in order to fully understand each place, and to connect with landscape and nature in every single aspect. In my personal opinion, escaping into nature is a refreshing, renewable, and restoring experience. I would say that it is my antidote to the busy and heavy life in the city side."
Don't miss this fantastic exhibition of master Jorge Obregon's latest expedition in the Colorado Plateau!