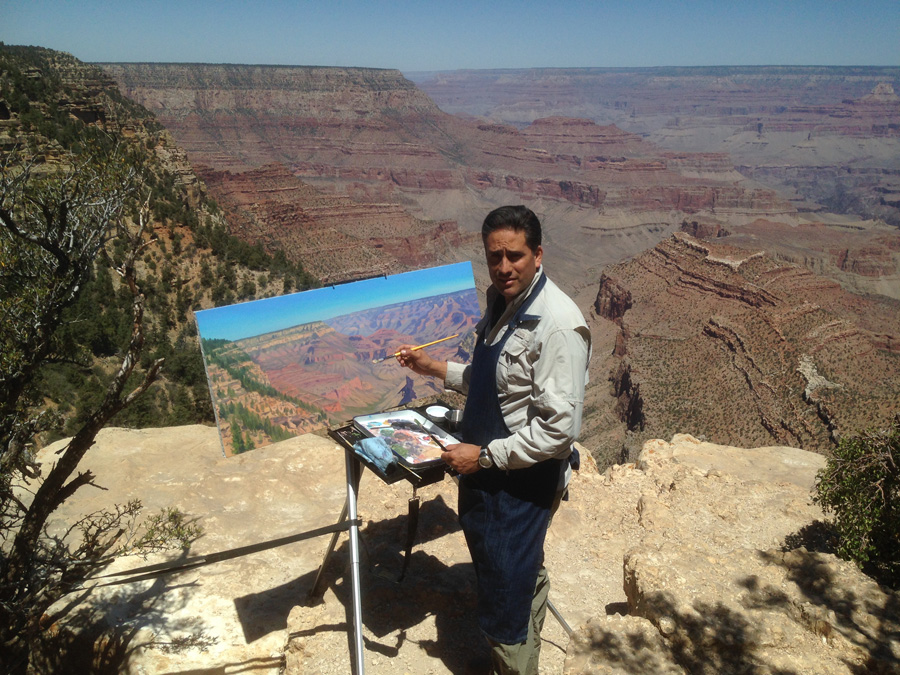 Who better than Jorge Obregon to tell us about his own history, trajectory, expeditions and this exhibition, for which he answers the following questions.
When and how did you discover that you liked painting and wanted to be an artist?
Since I was a child I liked painting and I have been developing it as an activity that I really enjoy. My parents own an art supplies store, Casa Garies, founded in 1890, where I spent many of my vacations working behind the counter. There I met several artists. Some of the ones that I met and visited their studios were Nicolas Moreno and Ricardo Martinez, from whom I took the advice to study the major of visual arts in the UNAM before thinking of going and studying abroad. Wisely, they told me: "First, know your history and what has been done here in San Carlos and then go and watch other horizons." I visited the National School of Visual Arts and was amazed by the workshops and what was doing there. At that time I decided to study this profession, and in November of 1990 when I was 18 years old, I enrolled to study.
What is your academic education?
Upon entering to the National School of Visual Arts at UNAM, the first professor I met was Luis Nishizawa, who was teaching the course of Technique of Materials. I took that course my first and second semester, learning how to mount a canvas on a stretcher, how to prime the canvas, and how to do each of the techniques, from mixing the pigments with each binder to how to apply them. It was the course that has helped me the most and from which I learned all the chemistry of painting. Standing as his student, master Nishizawa once asked me where I had taken the landscape that I had done as an exercise, and my answer was, "From a photo," he immediately told me, "Do not paint from a photo, go out and paint live," that phrase that I still remember left me marked to the point that now is the way I work to perceive the landscape. That is how I became friends with master Nishizawa, and later on he invited me to be part of his team of assistants who would travel with him to teach in Guanajuato and Matamoros. In the same way, many times on Saturdays we went to the country to "Paisajear" (to landscape) with him, and from there I learned a lot of plein air painting. From 1994 to 1996 I did my thesis project "Volcanes de Mexico, una Experiencia al Aire Libre" (Volcanoes of Mexico, an Outdoor Adventure), which had the goal of painting all the volcanoes in Mexico, from Veracruz to Nayarit. This project took me two years of traveling through the Mexican Neo-Volcanic Axis in order to realize a study of Space in Landscape. Aureliano Sanchez was the director of my thesis and Luis Nishizawa was the synodal of my professional exam. After awarding my Bachelor's degree in Mexico, I completed several projects and residencies abroad.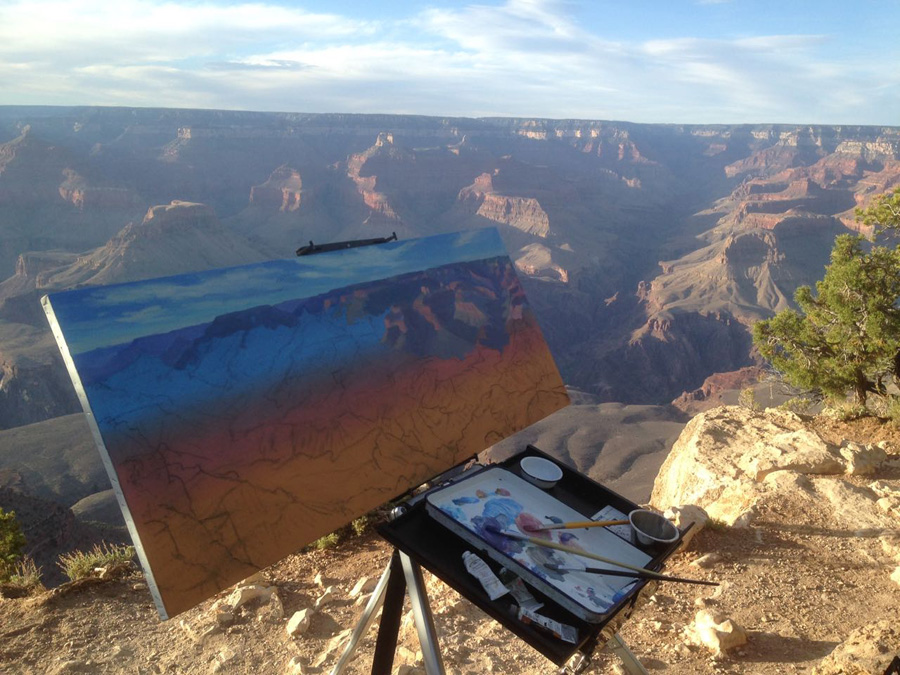 In 1997, at the Center d'Art i Natura in Farrera, Spain, with the project "Light in the Catalan Pyrenees"
In 1999, in Kittila, Finland, a residence with the theme "Light in the Midnight Sun"
In 2002, an artist residency at the Vermont Studio Center, in Johnson Vermont, with the project to paint the light of autumn in Appalachia.
In 2014, at the Montserrat College of Arts, in Boston, I took the workshop of Landscape Painting with Master George Nick.
In 2015, at Bennington College in Vermont, I took the course of Landscape Painting within the Art New England Program, with the professor Christopher Chippendale, and I toured the Hudson River knowing the house of Frederick Edwin Church and some places that inspired him to make this great group of painters of the Hudson River School.
What professors or artists have been the main influence or inspiration in your art and in what way?
Luis Nishizawa with his course of Technique of Materials. The courses that I taught as his assistant and the outings to paint in the country. Juan Manuel Salazar with his Saturday workshop of Landscape, in which we went to the countryside to paint. Aureliano Sanchez with his workshop of Drawing with Model and director of my thesis, and Jesus Martinez with his workshop of Metal Engraving.
Outside of the school of art, I met Nicolas Moreno and his son Alejandro Moreno, both landscape artists, when going to the countryside to paint.
Also, I was an assistant in a large-format landscape painting by Raymundo Martinez.
The artist that I admire very much is Dr. Atl, since he was a great scholar of the landscape from different perspectives and I think that led him to greatly enrich his landscape painting.
In general, all the traveling artists have left a mark on me with their way of working and traveling, doing expeditions and painting the nature of each different country, artists like: Alexander Von Humboldt, Rugendas, Egerton, Chapman, Gros, Catherwood, the Mexican Casimiro Castro, and the american landscape painters Thomas Cole, Frederick Edwin Church, Asher B. Durand, John Ferguson, and Albert Bierstadt.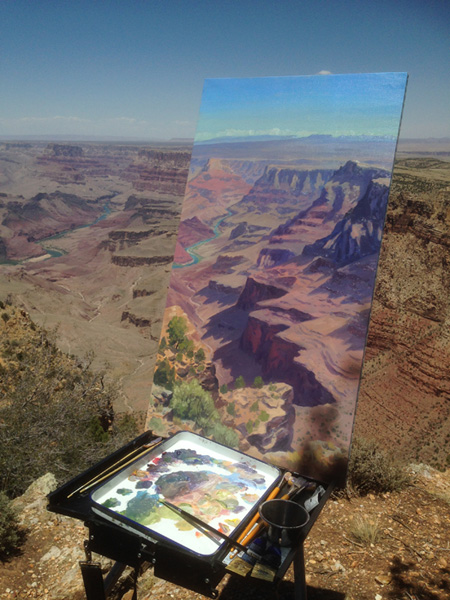 How did you learn the tradition of plein air painting?
I learned the tradition of plein air painting with the professor Juan Manuel Salazar during my undergraduate studies, going to paint in the countryside on Saturdays, later with Luis Nishizawa, and since then all the projects that I have done have been in situ (on site). Plein air painting generates me a state of mind and perception of nature so deep that it helps to capture it in the canvas. Also, I like the ascent of mountains and volcanoes. Mountaineering is a sport that I perform and enjoy very much combining it with painting.
Could you name some of your plein air projects, and which one has been the most challenging?
The different plein air projects that I have carried out start with my thesis, from 1994 to 1996, painting during two years the Mexican Neo-Volcanic Axis. This was the most extensive and challenging due to the lack of experience and all the vast territory I had to travel. More than 300 volcanoes make up this axis, from Veracruz to Nayarit. In this thesis I proposed to study the space in the landscape, and to analysis the development of landscape painting in history, considering how each period of history used and shaped the space according to its perspectives and ways of approaching to it. This was from Chinese painting, going through Europe and how this genre occured there, until the arrival in Mexico of traveling artists and their development in Mexico as a genre of pictorial tradition. Other important projects are:
1997 Light of the Catalan Pyrenees, Farrera, Spain
1999 Midnight Sunlight in Finland
2002 Autumn in Appalachian Vermont, Vermont Studio Center, USA
2007 Sierras de Coahuila, expedition with paleontologists through the desert of Coahuila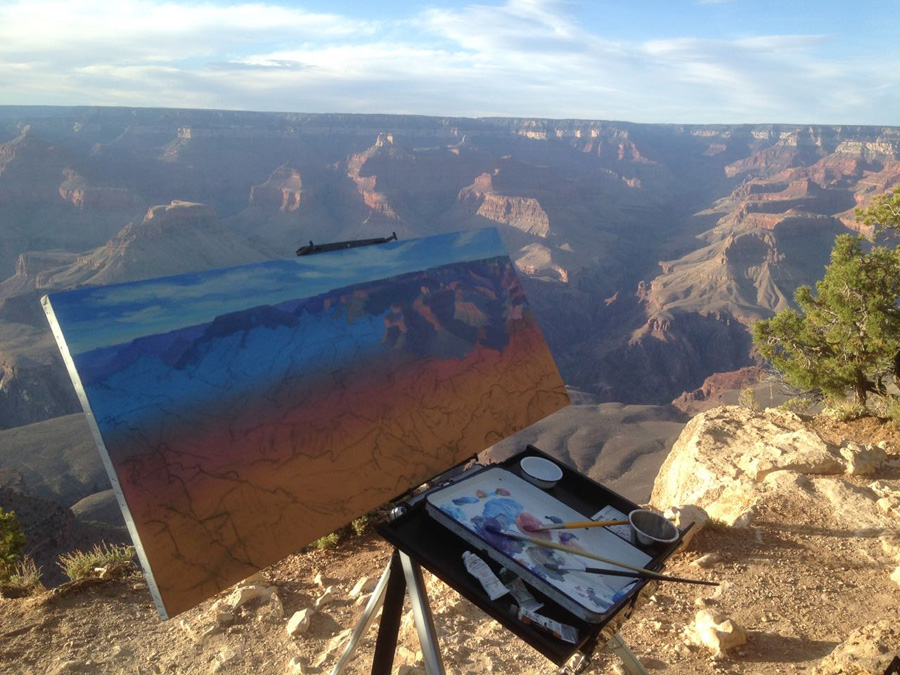 2009 The Peaks of Europe, Cantabria, Spain
2009 Expedition to the Cayambe Volcano, Ecuador
2012 Volcanoes of Colima, Colima, Mexico
2014 Fuji Volcano Project, Japan
2016 Remains of the Basin, Valley of Mexico, Mexico
2018 Grand Canyon, Zion and Sedona Experience, USA
Each project and trip had its particular challenges of logistics, travel and approach of each motive to paint.
Why did you select Mother Earth as the center of your art?
Nature and contact with, it is something that makes us richer spiritually and more sensitive to the world we live. Painting in each site allows me to assimilate and better perceive each place, to live it while immersed, to see how the changes of light lead me to create my paintings with this topographical study very attached to reality, but at the same time transporting the viewer to that precise moment and that atmosphere that I perceived when painting en plein air.
Why did you choose the Grand Canyon, Zion and Sedona for this exhibition and adventure?
The project of the Grand Canyon, Zion and Sedona was born as a personal desire to make a trip in my trailer to find an exhibition theme and to present a solo exhibition for the first time in the USA. I chose this area of ​​the Arizona desert because of its dramatic formations and because the light in the desert, due to low humidity, turns into something very intense and clear, this translated into color gives a very rich and vivid tones palette, coupled with dramatic topography and vegetation. When I started with the logistics of the trip, I found that the Colorado Plateau included four states, Utah, Colorado, Arizona and New Mexico, and it was when, in the plan of the trip I met Sedona and its magical formation of reddish rocks, and Zion National Park, a narrow canyon formed very similar to the Grand Canyon with large walls and a very rugged topography, which is an ideal subject to paint in this project.
What was the route you took since you left Mexico City?
The route from Mexico City was to first drive 1100 km (683 miles) to the border and cross through Laredo, from there I continued to San Antonio to unload the frames of this exhibition, took my trailer and started the adventure of 13000 km (8,077 miles). I took Highway 10 to El Paso passing through Las Cruces in New Mexico, from there I drove to Tucson, passing Phoenix to Sedona. There I spent 3 days painting, then I went to the South Rim of the Grand Canyon where I stayed for 3 weeks painting, from there I went to Zion in Utah, to paint for 4 days and go from there to the North Rim of the Grand Canyon, in this place I was 4 days and from there I returned to the South Rim and Sedona for another week of plein air painting.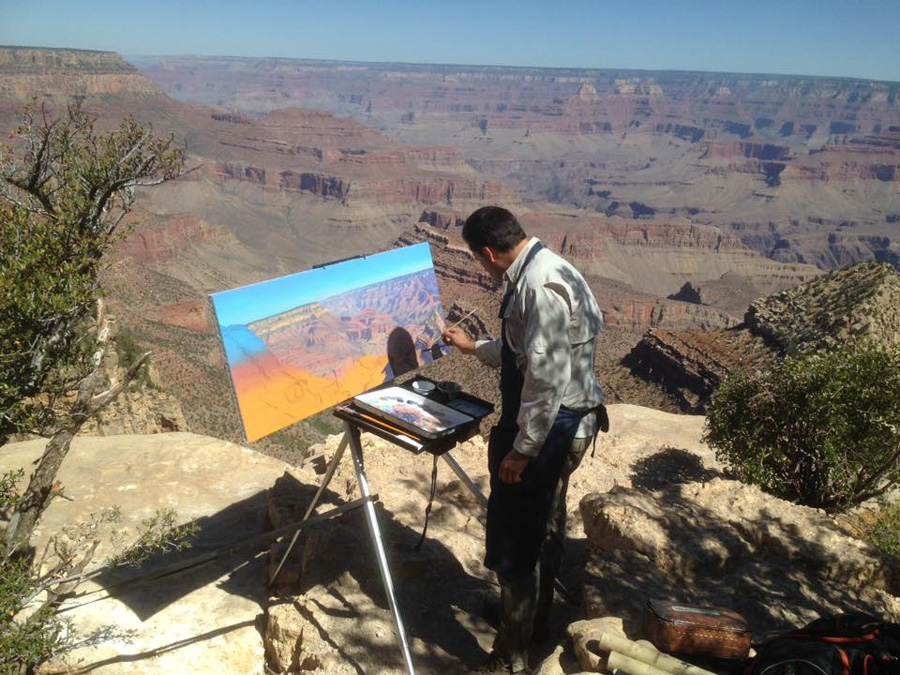 What was the preparation for this tour and exhibition?
The preparation consisted of mounting and preparing the linen canvases on the stretchers, ordering the frames, and packing and loading in the van all the equipment such as easels, paints, varnishes, etc. Then, marking the route of the trip and reserving all the RV parks of the route to avoid setbacks and to be able to dedicate myself only to paint.
What were the main challenges in this adventure?
The main challenges of this adventure were to have access to each place and to be able to choose each view. The weather was also a challenge due to the sun, heat and strong winds that dominate the Grand Canyon.
What emotions and thoughts invaded you when you were painting in those places?
The emotions that came to me when I was painting were related to contact with nature, like observing a couple of California condors in the evening flying in front of me, or seeing wild animals like elks, deer, and foxes. This gives a magical touch to the environment and exalts the spirit, makes me more perceptive when painting. A thought that often comes to me is to see how we are so insignificant before these works of nature.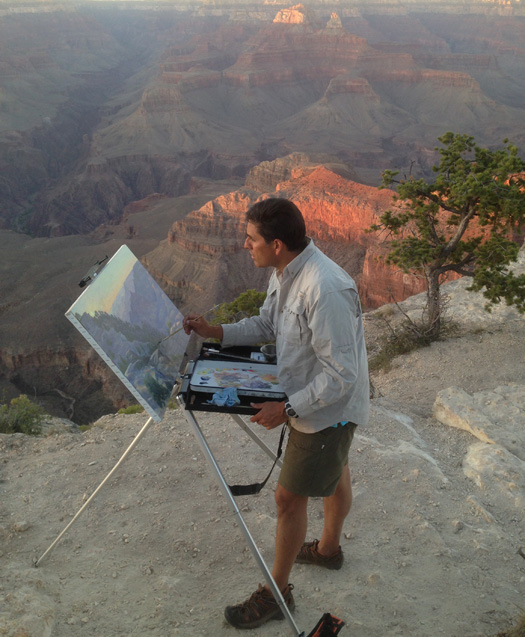 Is there any anecdote that you would like to share about this expedition?
There are many anecdotes. I daily knew someone in particular or saw something special, this adventure left me many learnings as a human being and as an artist.
What have you learned of plain air painting?
Plein air painting, traveling and discovering very special places in the world has led me to see how each culture and even religion go hand in hand with their surroundings and in many cases they try to coexist in balance and respect, this can mainly be watched within the primitive or autochthonous cultures of each place. Plein air painting has allowed me to perceive with all my senses each place, and thus through the brush, to be able to capture all these emotions and experiences of each place on the canvas. This freshness of painting live gives the artwork a special touch, which is never achieved in the studio.
Thank you for sharing your thoughts, experiences and learning.