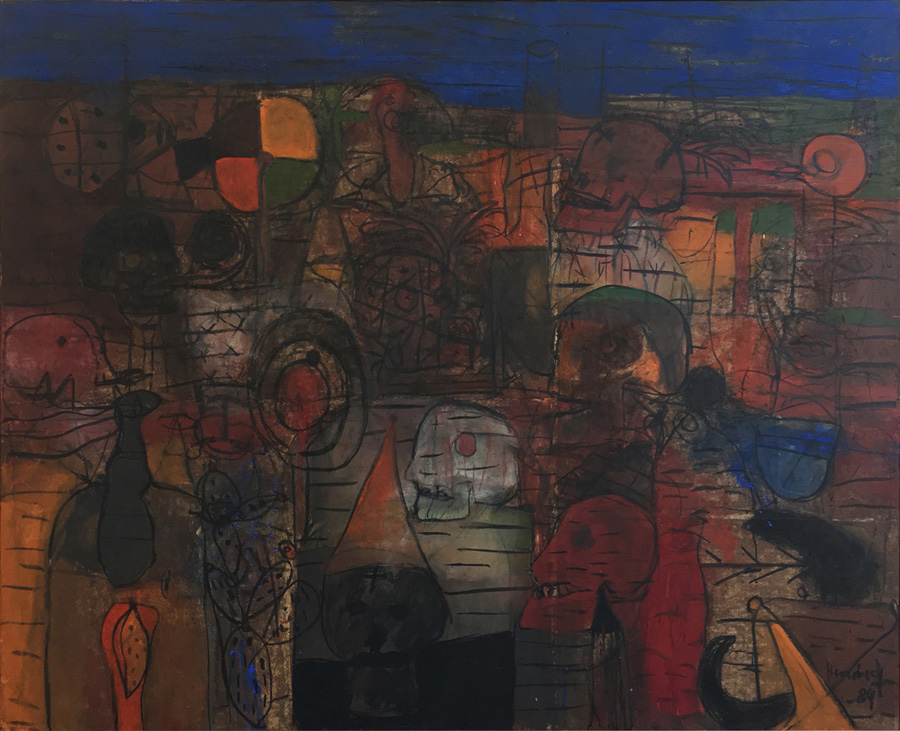 Tzompantli or skull rack has been defined as a type of wooden rack or palisade documented in several Mesoamerican civilizations, like the Zapotec, Toltec, Maya, and Aztec; which was used for the public display of human skulls, typically those of war captives or other sacrificial victims. It is a scaffold-like construction of poles on which heads and skulls were placed after holes had been made in them.
It was most commonly erected as a linearly-arranged series of vertical posts connected by a series of horizontal crossbeams. The skulls were pierced or threaded laterally along with these horizontal stakes. An alternate arrangement, more common in the Maya regions, was for the skulls to be impaled on top of one another along with the vertical posts.
The tzompantli served three simple yet terrifying social purposes in several Mesoamerican civilizations: to publicly display the skulls of sacrificial victims, to honor the gods to whom the victims were sacrificed, and to showcase the military might and power of the emperor and empire.
The tzompantli has been depicted in different ways of art and at different times in history. Starting with the Mesoamerican civilizations, there is a tzompantli carved in stone by the Maya civilization at Chichen Itza, dating from around the late 9th century.

Tzompantli, carved stone, in Chichen Itza, Maya civilization. Anagoria / CC by SA 3.0
Also, ruins of the Templo Mayor, in the Aztec capital, Tenochtitlan, now Mexico City, are conserved as part of the Museo del Templo Mayor. In the outside there is a tzompantli made in stone, dating from around the late 15th century.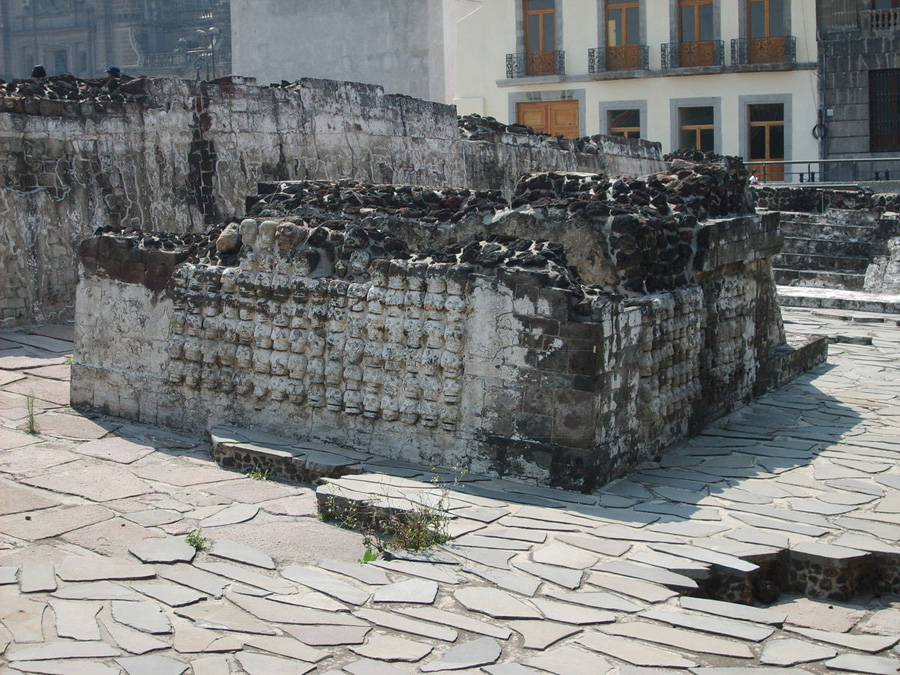 Tzompantli, stone relief, Templo Mayor, in Tenochtitlan, now Mexico City, Aztec civilization. Simon Burchel / CC by SA 3.0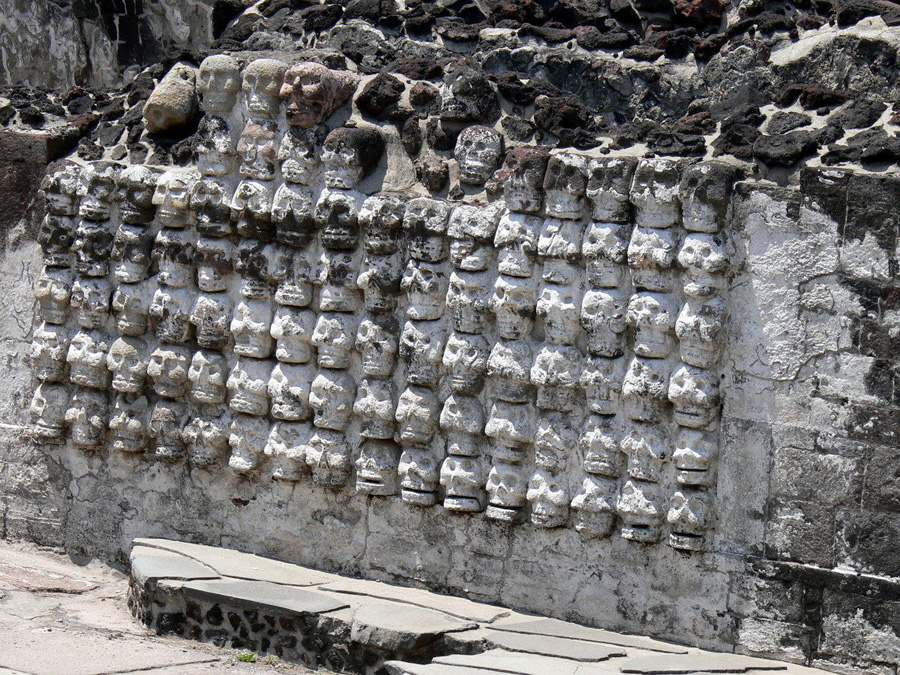 Tzompantli detail, stone relief, Templo Mayor, in Tenochtitlan, now Mexico City. Wolfgang Sauber-Praca Wáasna / CC by SA 3.0
There are numerous depictions of tzompantli in Aztec codices, dating from around the time or shortly after the Spanish conquest of the Aztec Empire, such as the Durán Codex, Ramírez Codex, and Codex Borgia.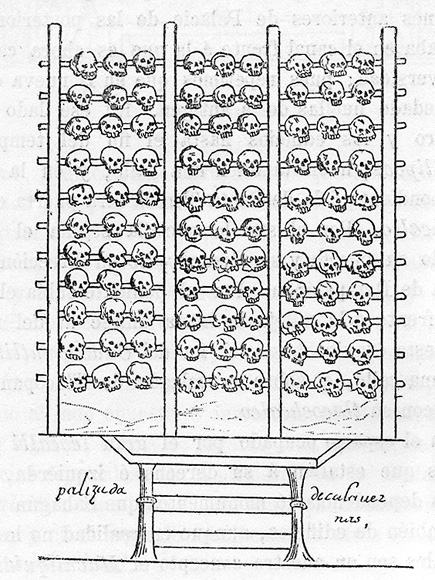 A tzompantli, illustrated in the 16th-century Aztec manuscript, the Durán Codex.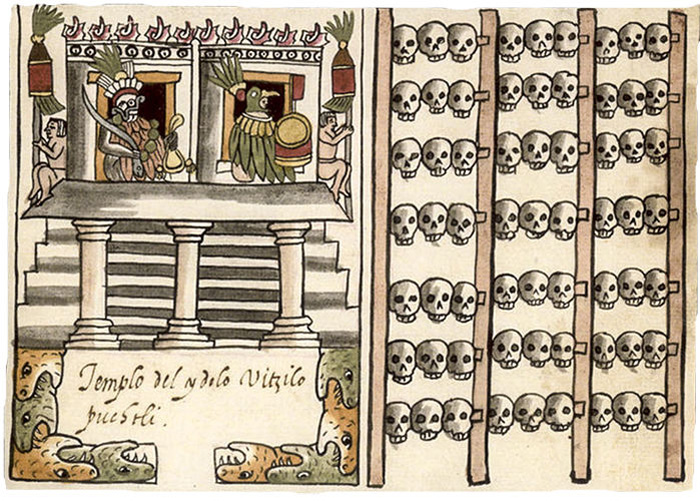 A tzompantli is illustrated to the right of a depiction of an Aztec temple dedicated to the deity Huitzilopochtli; from Juan de Tovar's 1587 manuscript, also known as the Tovar Codex or Ramírez Codex.
Tzompantlis, skulls, skeletons and in general the death have been the subject of many artworks made by different artists during the twentieth century. Usually they were made in a sarcastic or humoristic style, characteristic of the Mexican culture.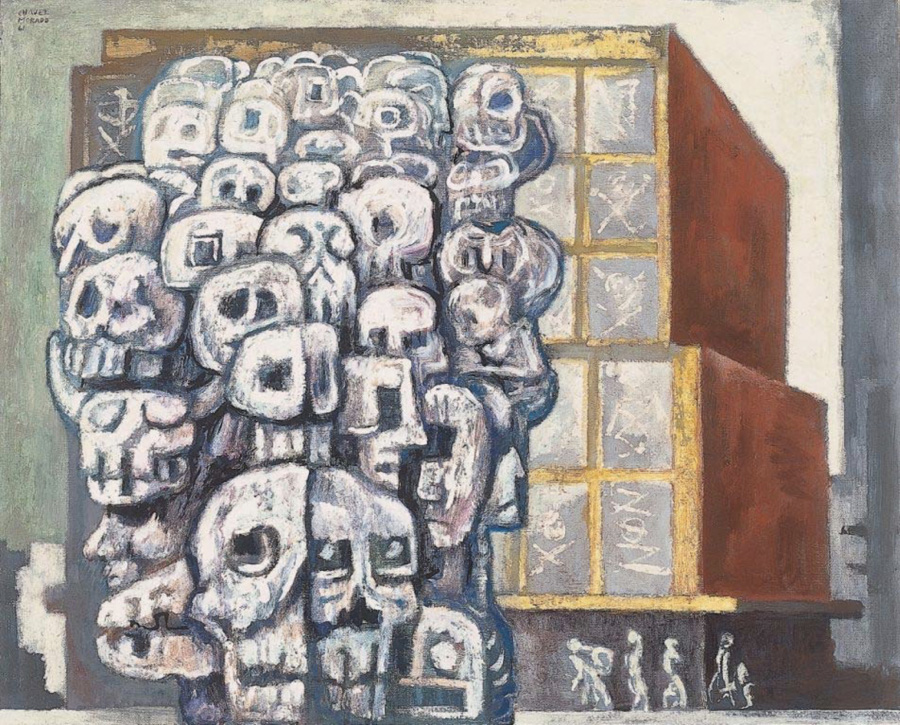 Tzompantli, 1961, by Jose Chavez Morado, oil on canvas, 80 x 100 cm, Museo de Arte Moderno Collection, Mexico City.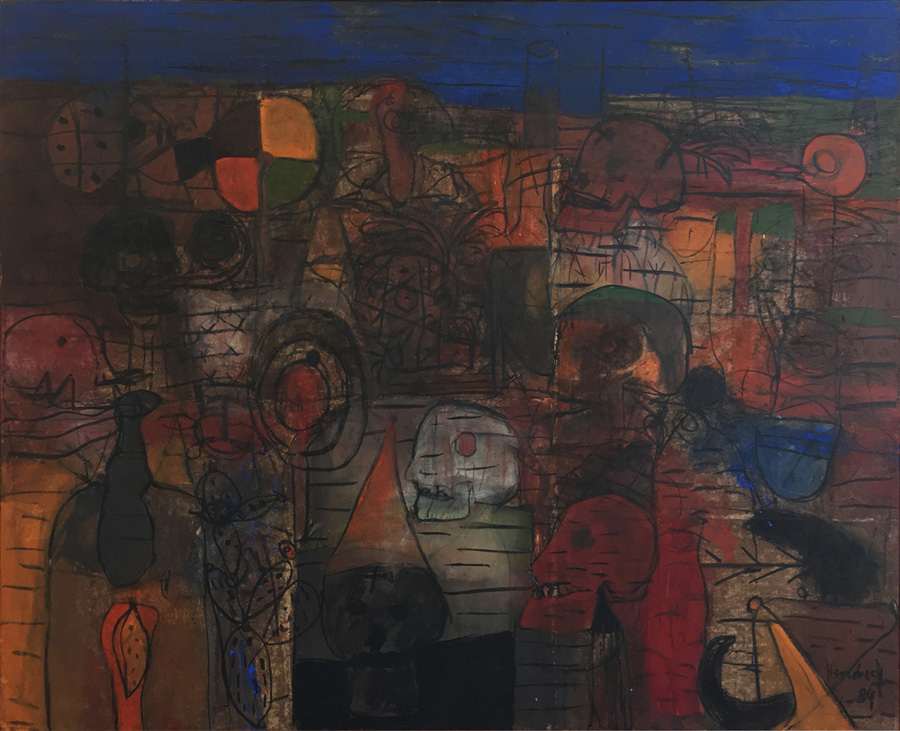 Tzompantli, 1984, by Sergio Hernandez, gouache on paper on canvas, 130 x 160 cm.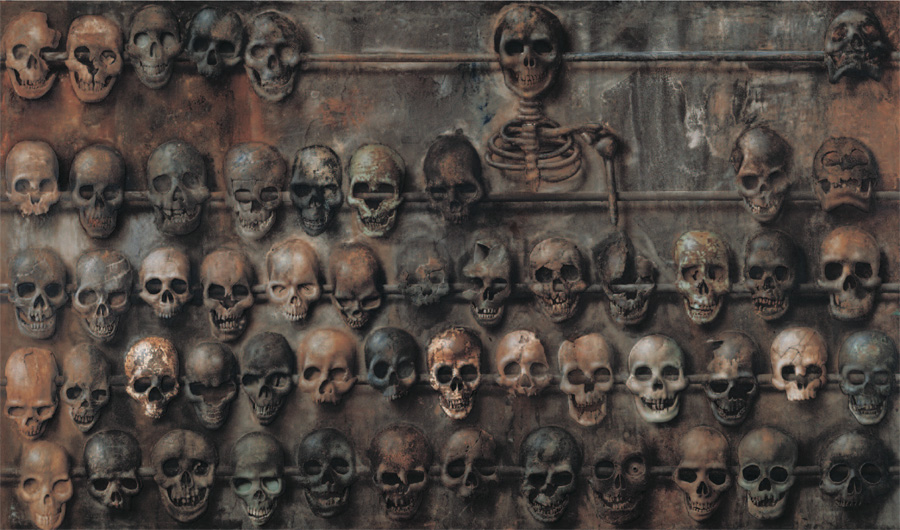 Tzompantli, 1994, by Rafael Cauduro, metal and acrylic on canvas, 122 x 210, private collection.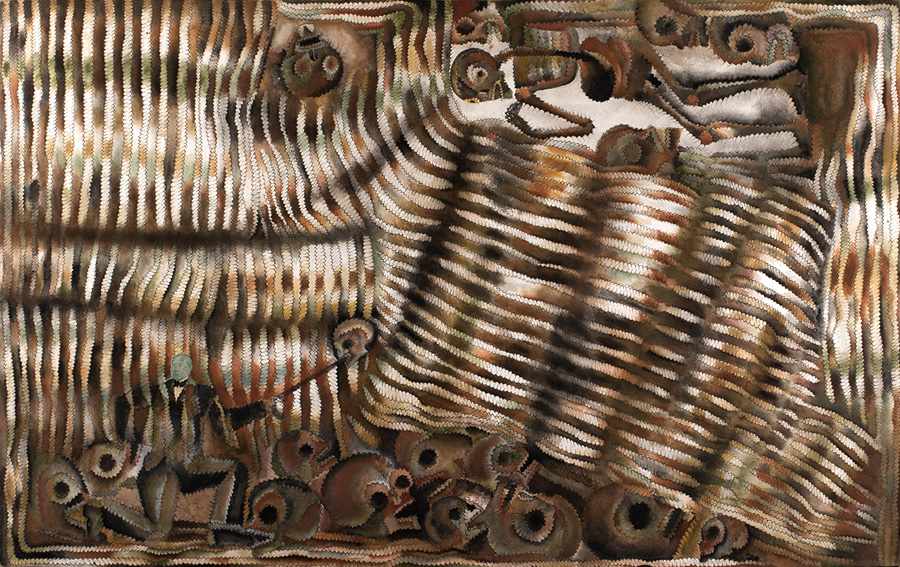 Juarez Atraviesa el Rio de las Calaveras Rodantes, by Francisco Toledo, gouache sobre papel, 64.5 x 102 cm, private collection.
In 2012, the Museo de Arte de la Secretaria de Hacienda y Credito Publico, Antiguo Palacio del Arzobispado, in Mexico City, presented the exhibition Tzompantli, asking to 48 contemporary artists, as Luis Nishizawa, Alejandro Santiago and Nahum Zenil, among others, to paint a skull in a small wooden board to be used it later for making an installation of a tzompantli.